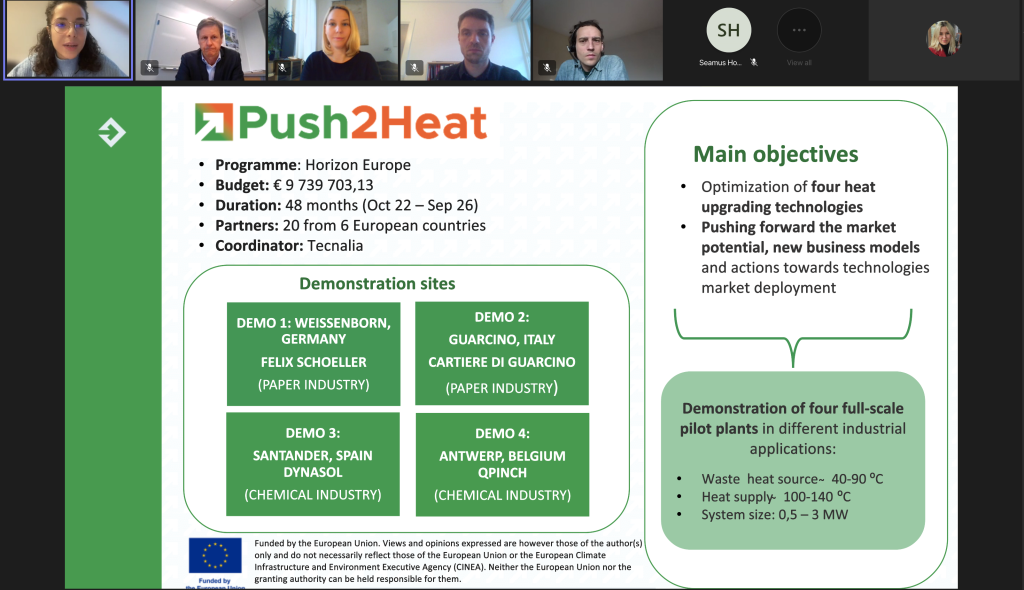 The number of heat pumps used in industry is considerably lower than those installed in residential and commercial buildings.
There are around 100 million households equipped with a heat pump globally, according to the International Energy Agency (IEA), whereas there were fewer than one million heat pumps installed in industry in 2020, the International Renewable Energy Agency (IRENA) reports.
By 2050, the total number of industrial heat pumps is projected to reach 80 million.
In Europe, where heat accounts for 60% of energy consumption in industry, the upcoming Heat Pump Action Plan announced by the European Commission is also expected to address industrial heat pumps in the race to net zero.
While the benefits of using heat pumps in industry run from reduced CO2 emissions to increased energy efficiency, the heat pump sector faces today a series of challenges that risk slowing down the uptake of clean heating technologies, mandated by the EU climate targets.
To take stock of the situation, the European Heat Pump Organisation hosted the webinar "EU perspectives on industrial heat pumps: unravelling non-technical barriers and opportunities" on 14 November 2023.
With over 150 registrations, the online event was organised within the framework of the SPIRIT and PUSH2HEAT EU-funded projects, presenting policies and case studies from France, the Netherlands, Denmark and Ireland.
The demand for industrial heat pumps is growing and expanding beyond industries such as food, beverage, pulp and paper where they have already proved to be effective. More heat pumps are now being installed in data centres and biotech facilities.
This is happening because heat pumps have the great perk of recovering waste heat and turning it into process heat that can be further used and distributed, explains Veronika Wilk – Coordinator at the Center for Energy of the Austrian Institute of Technology, in her opening speech.
However, while R&D focuses on innovation and higher-temperature industrial models, Europe must address its elephant in the room: high electricity prices. "Correcting the electricity-gas price ratio will be key to encourage the uptake of industrial heat pumps" warns Wilk.
Keeping electricity prices lower than gas prices is necessary to help consumers and manufacturers switching from fossil fuels to heat pumps contain operational costs, even in countries where reduced VAT rates, subsidies or rebates for heat pumps are present.
In France, where President Macron recently vowed to boost heat pump production by up to 1 million units per year, several schemes and programs provide incentives for decarbonisation. Yet «not all of them cover heat pumps" notes Yann Quiquenpois – Senior Manager at Daikin France, leading to a patchy legislative framework.
"Heat pumps are the go-to technology to help decarbonise industries and their benefits are tangible. More government support is needed to establish clearer policies and better criteria for incentives. This will help minimise the impact of inflation on consumers and train the workforce necessary to fill the lack of specialists for heat pump maintenance and installation" said Quiquenpois.
In the Netherlands, heat pumps are included in the Sustainable Energy Production and Climate Transition Incentive Scheme (SDE++). As explained by Jonathan van den Berg – Researcher at the Dutch Environmental Assessment Agency (PBL) in his presentation, the scheme offers financial aid to businesses and non-profits that produce renewable energy or commit to significantly lowering their carbon footprint. "There is a huge potential here" explains van den Berg "for integrated heat pumps that recover waste heat." After all, why discard something that can be reused? Playing on words, "heat residuals are waste only if the heat is wasted" he adds.
Moving up north, Fabian Bühler – Advisor at the Danish Energy Agency gives an overview of the Danish decarbonisation strategy, with its roadmap and public-private climate partnerships, to reduce Denmark's greenhouse gas emissions by 70% by 2030 and achieve carbon neutrality by 2050.
A virtuous example of heat pump deployment in industry comes from the Danish dairy producers, a key market segment in the country's economy. By boosting electrification over fossil fuels, they managed to reduce energy use by 32% and increase production by 60%.
"Policy-driven structural change helped reduce energy consumption while ensuring higher energy efficiency. The green transition will not happen by itself​: significant investments and long-term political objectives will define the growing role of electrification for the years to come" Bühler tells the audience.
Finally, the Irish perspective is represented by Padraic O'Reilly – Development Manager for the Technological University of the Shannon (TUS) and Seamus Hoyne – Secretary General of the European Federation of Agencies and Regions for Energy and the Environment (FEDARENE).
In Ireland, industrial heat accounts for 33% of national heating demand. Cooling amounts to 19%. Several regional and local schemes offer financial support to net-zero policies.
The focus is on skills and technology development: "The biggest challenge is addressing barriers like electricity-gas price disparity and the lack of skills. On the other hand, from food industries to data centres, industrial heat pumps create opportunities for industrial decarbonisation across sectors" concluded the panel. 
The webinar was then followed by a Q&A session in which the audience had the chance to engage with the speakers.
Did you miss it? No problem, you can watch the whole recording here anytime or access the full presentation here.